The UC Student Health Insurance Plan (UC SHIP)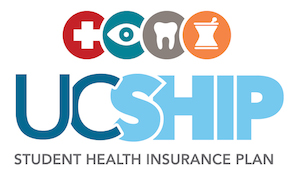 As voted in by students and passed by the UC Regents, the University requires students to have major medical insurance. Because having an insurance plan is required, all undergraduate and graduate students are automatically enrolled in and charged for the University of California Student Health Insurance Plan (UC SHIP). If students have a qualifying health insurance plan already, they can file an insurance waiver application to request opting out of the UC SHIP plan. This waiver application must be completed every academic year.
UC SHIP offers a wide range of benefits, including coverage of specialty office visits, diagnostic services, surgery, hospitalization and out-of-area care while traveling to name a few. In addition, the UC SHIP package includes strong dental and vision benefits and covers most Student Health Services fees. Students are automatically enrolled through their campus billing account, so there is no paperwork. Most students keep UC SHIP because it is a solid, comprehensive plan. It is convenient, covers them 12 months a year anywhere in the world, offers excellent benefits, and is affordable.
Coverage for medical, hospital and vision is provided through Anthem Blue Cross. Coverage for pharmacy is provided by OptumRx. Coverage for dental is provided through Delta Dental.
UC SHIP is a low-cost, comprehensive package designed to provide students with medical coverage anywhere in the world. Only UC SHIP offers UC Family network discounts for students to receive care at UC hospitals, affiliated facilities and professional providers.
VIDEO: UC SHIP Introduction: Comprehensive, Quality Care at an Affordable Price
AY2022-2023 PERIODS OF COVERAGE
| | | |
| --- | --- | --- |
| TERM | EFFECTIVE DATE | TERMINATION DATE |
| Fall | 08/15/2022 | 01/14/2023 |
| Spring | 01/15/2023 | 08/14/2023 |
AY2023-20243 PERIODS OF COVERAGE
| | | |
| --- | --- | --- |
| TERM | EFFECTIVE DATE | TERMINATION DATE |
| Fall | 08/15/2023 | 01/14/2024 |
| Spring | 01/15/2024 | 08/14/2024 |