UC SHIP Mobile App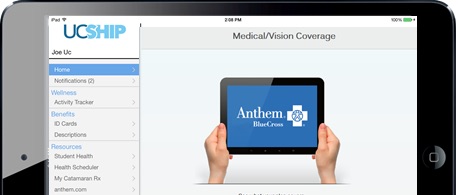 QR Code download and directions for the mobile app
About
Printed health insurance cards will no longer be mailed to students.
You're all about using your smartphone or tablet to get what you need — and fast! So, what if you could use these same devices to get info on your UC SHIP plan?
The new StudentHealth app — from Anthem Blue Cross (Anthem) — can help you quickly access UC SHIP information, including:
Your member ID card (printed cards are so last year);*
Where to find Student Health Services on campus;
What's covered under UC SHIP; and
Your Delta Dental PPO Plan benefits.
With StudentHealth, you can also connect with Anthem for medical claims and other plan details, and my OptumRx to get your ID card and manage prescriptions.
Plus, register with StudentHealth and you'll receive health tips just for you.
Go on, get StudentHealth!
From your smartphone or tablet, download the app from the Apple Store or Google play.
Now, Register
Launch StudentHealth, select "Register Now" and follow these three simple steps:
Enter your first name, last name, student ID number and date of birth (mm/dd/yyyy); then go to the next screen.
On Credentials, note your new username — "firstname.lastname."
Create a password containing at least six characters, including a letter and number.
That's it. You can start using the app by logging in to StudentHealth with your username and password.
Learn More
Visit www.ucop.edu/ucship or call Anthem at 866-940-8306.
Health Consumer from overseas:
This app is only available in the U.S. app store. If a student purchased and registered their phone outside of the U.S., they will not be able to see our app or any others that are U.S. specific apps. Below is a link to an article from 2012 about how international students might be able to get around this issue. Students can access the information via the web application on their computer or tablet at:
https://www.mobilehealthconsumer.com/web/pages/universitylogin.html
See the link below for more information on the article:
http://www.labnol.org/software/install-apps-from-itunes-store/13523/
* Printed health insurance cards will no longer be mailed to students. If you would like to print a paper copy of your card, you may print the ID card from the app on your smartphone, computer, or tablet.